2016 Puckster's Weekend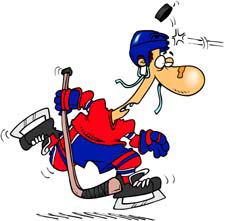 August 26, 27, 28 (Friday thru Sunday)

---
FORMAT
Friday - Team Play
SAturday Individual Play
Sunday - Individual Play

Tee Times each day - First tee time starts from 8:00AM each day you can pick to play earlier or later depending on the night before?
Open to first 144 paid entrants until August 23
Entry Fee includes:
individual tee gift, prizes for overall gross and net per flight.
BBQ Dinner - Friday Evening
Steak Dinner - Saturday Evening
Optional Events:
Puck Shoot - LAte Saturday Afternoon
Horse Race - Saturday Evening after Dinner
Deuce Pots - $10 per day
---
Registration Details:

Friday Team Play
Pick your own team
or
enter as individual and you will be assigned to team

Saturday / Sunday
You may designate your preferred foursome,
otherwise
individuals will be entered into draw for foursomes

Preferred Tee Times
Indicate on registration form if early or late tee times are required
(in order to accomodate any travel plans)

Registration closes after 144 Paid registrants or on August 23 (Which ever occurs first)
---
Entry Fees:

Team Play
$35 per player
(Eligible for team prizes and Dinner Friday evening)
optional: Deuce pot

Individual Play
$145.00 (KGC Members)
$145.00 (Yard Card Holders)
$195.00 (Guest Rate)
power carts for all 3 days $30.00
Optional:
Puck Shoot / Horse Race / Deuce Pot

Purchase a KGC Food & Beverage Card for $100 or Increments of $100 (Each $100 charged to card gives the card holder $110 that can be used for any food or beverage purchases in the club house, snack shack or other venues on the premises.
---
---
Results are in...................
Overall Pucksters 2016 Champion - Steve Goyer
Overall Net Champion - John Scanland
Click on link for results
http://www.impacttsonline.com/online/publish/kimberleygolfclub/2016/Tournament-6c83263b-0b98-4000-9ea4-8093f29f9b97.html